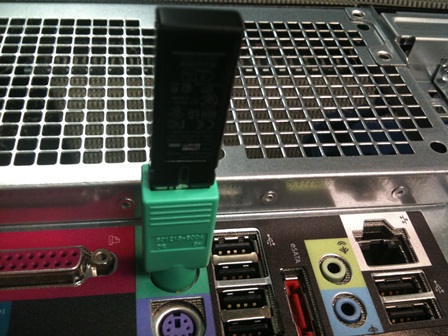 Defective Storage (from Chaz)
A defective thumbdrive. It happens every now and then in the company, so I sent a new one to the user.

A second defective thumbdrive. That's pretty rare. Better make sure the user is actually plugging it in. Yep, it's plugged in. Does the USB port work? Yep, the mouse works just fine.

A third defective thumbdrive. There's something wrong. Better go check it out.

Yes… those are USB ports right beside the atrocity.
Somewhat Unclear, Maybe it's the drugs, and More Support Stories – The Daily WTF
I haven't appropriated anything from The Daily WTF in a long, long time, so when I was catching up on my RSS feeds this morning, I saw the beautiful picture above.
I'm not sure if this beats MY story of clearing a paper jam with a letter opener, but this was damned good.
| | |
| --- | --- |
| | Glue Huffing Chickens Picked These Posts: |